Daniel Patrick Welch
Welcome!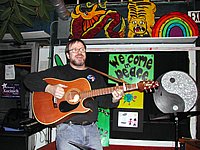 I am a writer, singer, translator and activist living in Salem, MA with my wife, Julia Nambalirwa-Lugudde. Together, we run The Greenhouse School (photo at right).
I have sung and recited at recent antiwar events and was dubbed the 'singing poet' by the Salem Evening News for my rendition of the stirring antiwar classic "The Band Played Waltzing Matilda" at a Poets Against the War reading.
Kurt Vonnegut, in his recent interview condemning much about how Americans are taught to think (or not) suggested music as one of the few remaining truly promising avenues for reaching people. I am available for a limited number of engagements at antiwar events as scheduling permits. Email me at wpdanny@netzero.com.
My most recent articles are provided here in 30 languages - for viewing, printing, and redistribution: Arabic, Catalan, Chinese Croatian, Czech, Danish, Dutch, Finnish, French, Galation, German, Greek, Hungarian, Indian, Irish, Italian, Japanese, Korean, Pakistani (Urdu), Polish, Portuguese, Romanian, Russian, Serbian, Slovakian, Spanish, Swahili, Swedish, Ukrainian and Turkish. (Translations are still in progress - stay tuned.)
Check out Danny's shop - where you can order stampers (Bush is a fraud), stickers, fraud dollars and Greencard stationery and soaps.
Enjoy your visit!
Last updated: 04/28/11